Holcim partnership boosts Nerimbera's Booyah Bean Team
Young people in the Nerimbera/Rockhampton community in Central Queensland now have a safe centre to learn skills essential for a career in the hospitality industry, thanks to a partnership between Holcim and Queensland Police.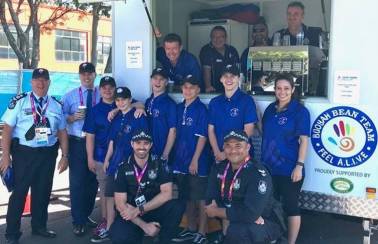 Project Booyah is a youth mentoring program run by Queensland Police, which utilises adventure-based learning, leadership skills, resilience training, policing strategies, and family-inclusive principles to help young people aged 14-17 years make better life choices.
A popular initiative within Project Booyah, which also financially supports the youth program, is the "Booyah Bean Team". The program provides young people with training and work experience for employment in the hospitality industry. The Booyah Bean Team offers catering and operates a mobile coffee van in South East Queensland and Rockhampton, staffed by program participants.
"In late 2020, we were approached by Queensland Police Senior Constable, Joe Ramsay, who asked if Holcim owned any suitable premises that could host the Booyah Project as it was no longer viable to operate from the local PCYC," explains Darren Dunn, Nerimbera Quarry Manager.
"Of course, we offered the Nerimbera Community School House, a former school turned community centre which Holcim owns. Up until this point, we felt that the school was underutilised and so we were more than happy for Project Booyah to move in and establish the Booyah Bean Team's Rockhampton training centre there."
Following a community vote, resulting in a resounding "yes", Holcim has sponsored the program ever since, which continues to provide opportunities for the young people that have participated in the program to reconnect with the community, and hone the skills that they have acquired in barista training within the program.