Prestressed decks and piles

Working to tight timeframes dictated by the QLD wet season, Humes supplied a wide range of precast components, including prestressed piles and decks, RCBCs and SRCP.
Bruce Hwy Upgrade - V2C, Townsville

Humes delivered a timely and cost-effective solution for two new bridges on Townsville's Dalrymple Road upgrade project. Product supplied in a tight timeframe included 451 prestressed deck units and over 200 piles.
Dalrymple Road bridges, Townsville
---
Precast arches

Humes precast concrete arches create an aesthetically pleasing entry statement for the Capestone master-planned community north of Brisbane. It is a high performance custom bridge solution with excellent visual appeal.
Capestone Blvd, Mango Hill QLD

A precast concrete arch solution was selected to replace an ageing corrugated metal pipe drain, providing a 100 year design life, and to minimising the duration of the road closure.
Mooney Mooney Creek Bridge, NSW

When Humes won the tender to supply three arch structures for the Ballina Bypass, it took on some major design challenges - a steep gradient of 13.5°, soil movement of 50mm, asymmetrical loadings, and the tightest curve on an arch ever built in Australia.
Ballina Bypass, NSW

Impressive aesthetic and environmental benefits, and an efficient construction method, led the DTMR to incorporate a Humes precast arch into the Ipswich Motorway Upgrade. The 15m arch spans a creek which is an important wildlife corridor.
Ipswich Mwy upgrade, QLD

Humes one piece arch, with an internal span of 9 m and internal height of 3 m was used to span Glenugie creek and provide an effective fauna underpass.
Glenugie Upgrade, Pacific Hwy NSW

Working closely with GHD, Humes successfully designed a one piece arche structure, with an internal span of 6 m, and internal rise of 3 m. Design parameters included compliance with 350 LA design loads for bridges on heavy-haul coal lines.
Maitland to Whittingham track upgrade, NSW
---
HumeDeck® modular bridge system

The MacArthur Gardens bridge in South Sydney used a clever design approach to minimise both its impact on the natural environment, and on project and maintenance costs.

MacArthur Gardens bridge, Sydney

The HumeDeck® modular bridge system provided the perfect solution for replacement of a timber bridge in a sensitive World Heritage Listed environment. The versatility of the HumeDeck® system allowed it to be installed on the existing bridge substructure, minimizing environmental disturbance.
Koombooloomba Dam bridge, QLD
---
I-beams

When Queensland Rail undertook a $28m upgrade of the St Lawrence Creek Rail Bridge, they were committed to implementing a long term, durable, and cost effective solution. Humes was subsequently chosen to supply 80 x 25 metre concrete girders with encased cathodic protection.
St Lawrence Creek bridge, QLD
---
Uniculvert® modules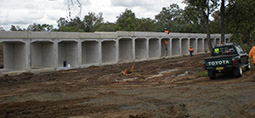 In just six days and well ahead of schedule, 166 Uniculvert® modules, several kerbs, four freestanding wing walls and 12 prestressed girders were installed to create a new 394 m rail bridge.
Tulladunna Bridge, NSW
---
HumeSlab® bridge decking

HumeSlab® bridge decking has demonstrated its adaptability by catering to complex curves and non-standard shapes for three cantilever bridges in Brisbane's Airportlink M7 project.
Airportlink M7, Brisbane
---
Precast elements

One-off moulds were used to create precast decorative design plinths, panels and arch facades to ensure this new bridge faithfully represented the Art Deco style of the original.

Jubilee Bridge, Innisfail QLD