A stroke of genius for handling stormwater
Brisbane's subtropical climate is perfect for life in the great outdoors. Over the hot and humid summer months, beautiful sunny days are followed by periodic tropical storms and torrential rain.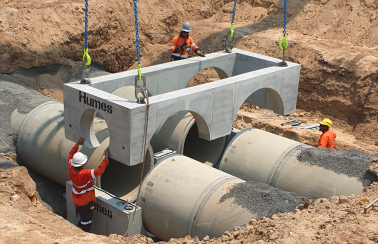 The twin stormwater pipelines running through the estate required large-scale custom pits to enable maintenance access and handle change of depth requirements.
Manufactured locally at the state-of-the-art Humes Ipswich facility, the pipes and pits are a complete modular precast solution. Using a precast solution reduced the installation time on site and exposure to on-site hazards that an in-situ construction would require. Installation time for each of the custom pits was reduced to only two hours, reducing labour costs.
Civil Contractors BMD were impressed with the general quality and finish of the custom pits. With the installation going smoothly, and significantly reducing labour time BMD's Project Engineer, Jacob Meecham said "Everything has been going well from our end, I would definitely look to use Humes moving forward for these types of structures".
Stormwater pits (pdf, 467.02 KB)