Employee Spotlight: Building progress - Meet Thisy Fabris, National Pre-Contracts Coordinator
Thisy Fabris is a Pre-Contracts Coordinator in the major projects team, based in Queensland. She completed the Holcim Australia Graduate Program in 2020 to now be part of a global group of 60,000 passionate, pioneering and high-performing people. She's part of a team, delivering large infrastructure projects, that inspires each other to push the boundaries of what's possible, delivering the innovative and sustainable building solutions the world needs.
Kick-starting her career in February 2019
Thisy embarked on her journey with Holcim in February 2019 as part of the Holcim Australia Graduate Program that provides world-class learning in which new graduates can thrive. Her dedication, enthusiasm, and outstanding performance quickly set her apart, propelling her to various roles within the company, each one contributing to building her growth and expertise.
National Pre-Contracts Coordinator - a mission to excel
As National Pre-Contracts Coordinator, Thisy provides clients with highly competitive proposals and helps secure projects for Holcim across Australia. Drawing on her experience from previous projects, Thisy excels in discussing client needs during the tendering process and creatively formulates bid strategies to set Holcim apart.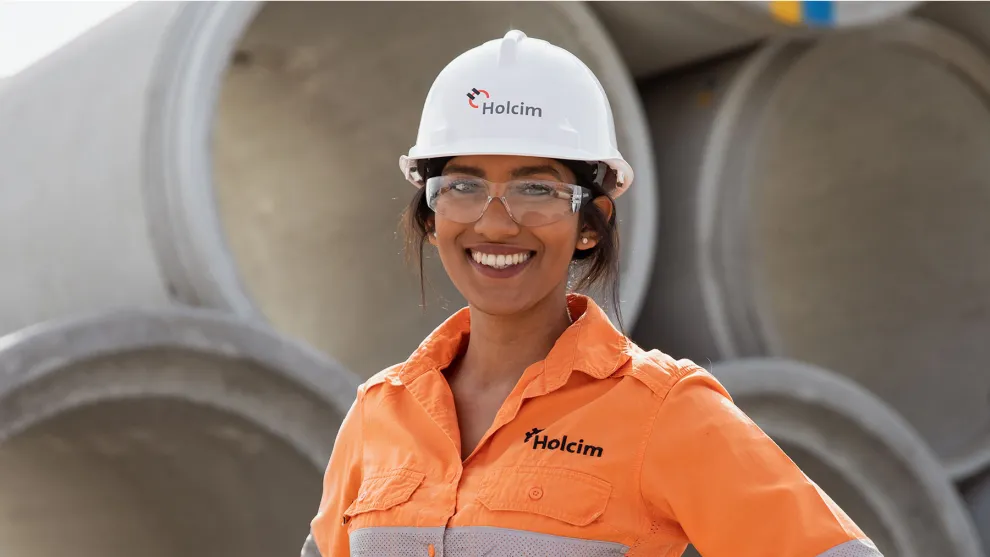 Thisy Fabris, National Pre-Contracts Coordinator
A journey of growth and accomplishments
Thisy's remarkable trajectory began as she stepped into the Victorian fixed plant concrete business during the early days of the Graduate Program. Eager to embrace new challenges, she swiftly transitioned into major projects after just three months, demonstrating her adaptability and drive to excel. In October 2019, Thisy embarked on another rotation, this time joining the dynamic Aggregates team in Melbourne. Each role she undertook contributed to her understanding of the company's operations, solidifying her position as a valuable asset within the organisation.
Upon successfully completing the Graduate Program, Thisy took on the role of Project Supervisor in Victoria, showcasing her leadership capabilities and commitment to ensuring the successful execution of various projects. In recognition of her outstanding contributions, she was entrusted with the position of Project Manager in Queensland in 2022.
Passion for large infrastructure construction projects (LICPs)
For Thisy, working on LICPs is a deeply fulfilling experience. She cherishes witnessing a project take shape from its inception to completion. The dynamic nature of LICPs captivates her, as numerous moving parts collaborate to achieve a shared vision. At Holcim, we know that when it comes to creating the building solutions of the future, we can't do it alone. That's why we foster a culture of collaboration and teamwork that supports and inspires our people every step of the way.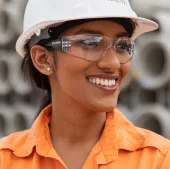 "Each day brings new challenges and complexities, and being able to pivot swiftly in response to unforeseen obstacles is vital, especially given the ever-changing nature of concrete."
| National Pre-Contracts Coordinator
Dreaming of offshore wind farms
One of Thisy's aspirations is to be involved in an offshore wind farm project. Having worked on wind farms in Victoria and an offshore project in Queensland, she is eager to apply the knowledge gained from these experiences to a completely different environment and application, pushing the boundaries of possibility.
A passion to find better ways to build
Thisy's favourite project to date is the Ship Loader and Berth Replacement Project for BHP at Hay Point in Mackay, Queensland that was completed in April 2023. This groundbreaking endeavour involved supplying concrete with a density of 3.5t/m3 and a 600mm spread on a 2km trestle offshore into "Dogbones", which sat on existing underwater piles to extend the berth. The project's high-density aggregate presented a unique challenge, as it could only be sourced from one mine in Australia.
Facing numerous hurdles, Thisy and her team's resilience and ingenuity shone through in finding better ways to build. They investigated the properties of magnetite in concrete, the effects of its production on set times, and the impact of high doses of admixtures from different companies in one mix. The project's success left Thisy immensely proud of her team's accomplishments and their ability to deliver the next generation of building solutions that helped to improve materials handling throughput and cyclonic wave immunity at the facility.
A global journey starting in Sri Lanka
Thisy brings with her a diverse and fascinating background. Born in Sri Lanka, she migrated to Melbourne at a young age. Throughout Thisy's life, her father's work in the aviation industry allowed her to live in various locations including Papua New Guinea. The exposure to different cultures instilled a global perspective and a remarkable adaptability that now serves her well in her career.
After graduating high school, Thisy pursued a Bachelor of Science at the University of Melbourne before joining our Holcim Australia family through the Graduate Program. The 18-month program enabled her to experience different places, people and functions in real jobs, working on real projects.
Creating opportunities for you to make your mark
We are immensely proud to have Thisy as part of our Holcim Australia family. Her passion, dedication, and willingness to take on challenges is inspiring. We look forward to supporting her continued growth and witnessing the remarkable projects she will lead in the years to come.
Thisy embodies the builder of progress spirit within Holcim. We're committed to providing world-class learning and development opportunities to help our people shape their career. Because together, we don't just build progress in our careers, we build it for people and the planet too.