Volunteers tree-plant in Australia's largest urban park
Ashley Gough and Sejal Sheth participated in Greening Australia's planting event through Holcim Australia's volunteer program. The flexible program enables our employees to contribute their skills and energy towards social and environmental projects that empower people and communities to build a better future.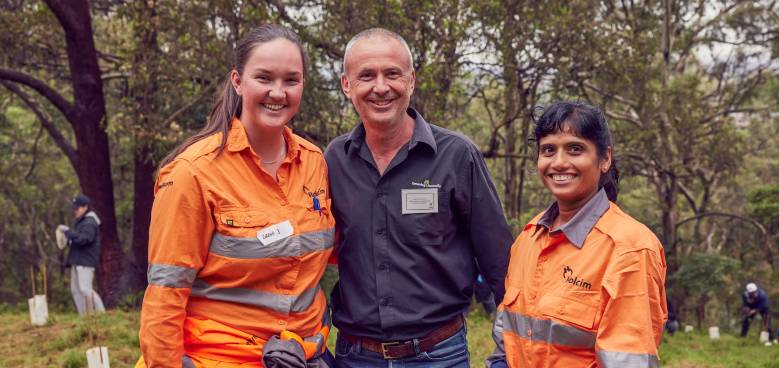 (l-r): Holcim's Quality Assurance Officer Ashley Gough, Greening Australia representative and Holcim's SHE/Quality Administrator Sejal Sheth.
Despite the wet weather, Holcim's resident green thumbs Quality Assurance Officer Ashley Gough and SHE/Quality Administrator Sejal Sheth volunteered their time to participate in the planting event made possible through Holcim's partnership with Greening Australia. More than 1,500 native trees were planted in Western Sydney Parklands that helped Greening Australia move closer to their target of establishing 500 million native plants by 2030.
"I care a lot about the environment, but I have never volunteered before. When the opportunity to do my bit and help offset our carbon footprint came up through work, I jumped at it!" says Ashley Gough. 
Tree planting is part of an ongoing program to create a living, breathing, self-sustaining parklands for Western Sydney that stand unique in Australia. Covering 5,280 hectares and stretching over 27km, Western Sydney Parklands is home to more than 60km of tracks and trails.
Photos: courtesy Greening Australia