Concrete's carbon footprint still weighs heavy, so what's the fix?
A special report by Poppy Johnston at The Fifth Estate examines the embodied carbon of concrete, and how industry, academia and government will need to pull out all the stops to trim its footprint.
It's difficult to imagine a world without concrete. After water, it's the second most consumed material in the world and it's everywhere – in our buildings, footpaths, and roads. 
But concrete has a carbon problem. Cement, concrete's key ingredient that binds the other sand and gravel together to give it its famed strength, is the source of about 8 per cent of the world's carbon dioxide (CO2) emissions. Cutting the emissions in cement is hard because the emissions largely come from an unavoidable chemical reaction during its manufacture. Swapping out cement for other low carbon binding ingredients is an option but despite years of experimentation, no alternative has been found that can completely replace cement without sacrificing performance.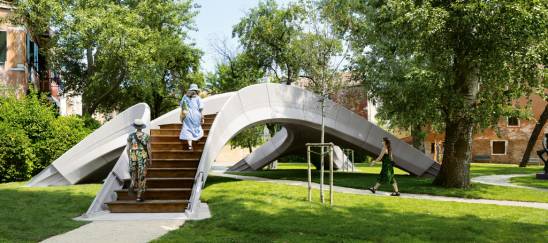 Designed for deconstruction and reuse - Striatus Bridge 3D concrete printed with minimal material and maximum strength.
The material's carbon footprint is being taken seriously. This year, the Global Cement & Concrete Association launched a roadmap to decarbonise the global industry by 2050, and closer to home, Cement, Concrete & Aggregates Australia (CCAA) and other organisations have commissioned a report on decarbonisation pathways for Australia's concrete and cement industry. It's evident that all levers will need to be pulled to meet this target and even then, the industry is pinning its hopes on expensive, unproven carbon capture utilisation and storage (CCUS) technologies to squeeze emissions out of its supply chain entirely.
Materials expert Jonas Bengtsson, CEO and Co-founder of sustainability consultancy Edge, confirms that there's been no real "breakthroughs" in low carbon concrete technology and that the task at hand relies on incremental change. "We're kind of a little bit locked in, because I don't think we can do much without concrete. Demand is just increasing. We can't just miniaturise the built environment," he says.
"So at this stage it is about looking at what are the options to minimise the impact." Bengtsson says there's "a lot of healthy competition" between concrete manufacturers to lower the per cubic metre carbon intensity of the product.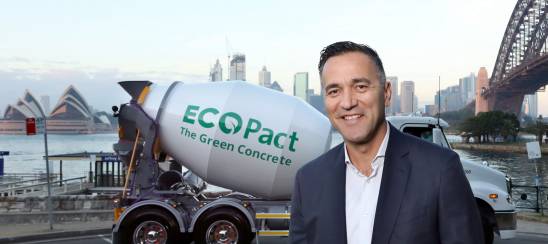 "Carbon must be part of the conversation" - George Agriogiannis, CEO, Holcim Australia & New Zealand
George Agriogiannis, CEO at Holcim Australia & New Zealand, which has a Science Based Target and is offering a carbon neutral concrete product (achieved via offsets), says there's a lot of demand in the market for lower carbon materials.
"I don't think, these days, we can have a conversation with a client, a developer, without carbon coming into the conversation," says Agriogiannis. 
Inflexible specifications and regulations stopping innovation in low carbon concrete
Cement Concrete & Aggregates Australia chief executive officer Ken Slattery says so far, the industry has focused on reducing emissions during cement manufacturing – by using alternative fuels, new kiln technologies that use less fuel, and improved grinding and processing activities.
He says the industry has already travelled a reasonable distance towards decarbonisation, achieving around 25 per cent reduction in emissions since 2000. "But the opportunities for further reduction are getting harder and harder," says Slattery. 
Top of the list to reducing emissions further is overhauling Australia's restrictive standards and specifications for concrete. Designed to ensure fit-for-purpose concrete ends up in roads, buildings, and other critical infrastructure.
Holcim Australia & New Zealand's Agriogiannis says that the industry tends to be very risk averse and defaults to specifications used in past projects.
To encourage low emissions innovations, the industry is calling for specifications that are performance-based. "So there's a big body of work that's required to facilitate that," Slattery says.
He says governments, state governments in particular, could unlock innovation in this area by taking on more of the risk. When around 15-20 per cent of concrete goes into major government infrastructure projects, he says governments could really help drive change in the industry through overarching procurement policies that preference low carbon materials.
"And we've seen that change around the world. So it's not impossible," says Slattery.
Carbon offtake – how significant is this really?
Holcim Australia & New Zealand's Head of Sustainability Cyril Giraud says that concrete also offtakes carbon where, through the life of the concrete, carbon is reabsorbed into the material. He says the industry is trying to get the embodied carbon reducing capabilities of this phenomenon recognised.
When questioned on the expected effectiveness of carbon offtakes, it could account for around 6 per cent of the total decarbonisation challenge. "So that's definitely significant."