Holcim welcomes Green partnerships
Holcim is delighted to launch two green sponsorships in Australia with Greening Australia and in New Zealand with Trees that Count.
Holcim is committed to becoming a nature-positive company as part of its sustainability priorities. The recent launch of ECOPact low-carbon concrete and the low embodied carbon Waimea Community Dam are building progress for people and the planet.
Greening Australia
In Australia, we are supporting Greening Australia, an independent environmental enterprise committed to tackling Australia's greatest environmental challenges in ways that work for communities, economies, and nature; planting millions of native trees and plants, protecting hundreds of native species, and supporting Traditional Owners' aspirations for restoring Country.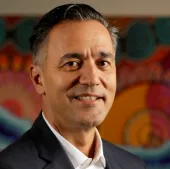 We're working with organisations committed to creating a more environmentally sustainable future.
| CEO, Holcim Australia & New Zealand
Holcim will contribute to Greening Australia's goal of establishing 500 million native plants by 2030, an achievement that will benefit future generations. In addition to financial support, our support will see Holcim teams invited to get their hands dirty at a range of planting events nationwide.
Trees that Count
In New Zealand, we have partnered with local not-for-profit Trees that Count to mitigate some of our carbon footprint and help protect New Zealand's threatened biodiversity. Our donation purchases new native trees for planting in public spaces, cared for long-term by community groups. 
Holcim Australia and New Zealand CEO, George Agriogiannis said the initiatives represent an important step in our company's sustainability target.
"Our partnership with Trees that Count and business sponsorship of Greening Australia complement our journey towards achieving our 2050 net-zero targets. Aligned to our 2022 Sustainability Roadmap, we are working with organisations committed to creating a more environmentally sustainable future for Australia and New Zealand," said Mr Agriogiannis.
"In the last year we have made considerable progress toward our 2050 targets; bringing to market our low-carbon concrete ECOPact, installing solar panels across ten Humes plants in Australia to increase renewable energy production and supplying to large-scale sustainability projects such as the Waimea Community Dam. 
"As a local business, we are incredibly proud – and excited – to be joining other like-minded companies passionate about reducing C02 emissions, and who want to make a tangible difference to the future of the planet."