The StormTrap® system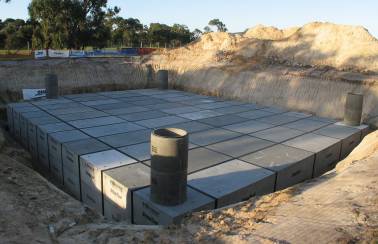 The StormTrap® system is an underground trafficable stormwater detention and infiltration solution that provides a high level of value for customers and projects in meeting regulatory requirements, whilst minimising the impact on land usability. The system represents a cost effective, fully trafficable, below ground detention system that complies with all the relevant Australian Standards.
The StormTrap® system is produced by connecting individual precast concrete modules into a configuration that meets each project's requirements. This unique approach provides an extremely simple and flexible design solution without compromising above ground land use.
A range of design and installation benefits make the StormTrap® system a competitive solution for any residential, commercial or industrial project.
The system is custom designed to best suit your project.
Our custom computer software will reduce your design time.
The system will provide the maximum possible detention volume for the smallest footprint.
It provides a high infiltration capacity.
It is low risk and fully trafficable to SM1600 traffic loadings (AS5100.2).
It is cost effective in constrained sites.
It is quick to install.
The system is fully accessible and maintainable.
It can meet local detention requirements without compromising land use.