Holcim Australia launches new low carbon concrete range
Leading global building materials supplier, Holcim, today launches ECOPact, a 'low carbon' concrete product range which can reduce the embodied carbon of buildings, infrastructure and homes.
Currently, a fifth of Australia's annual greenhouse gas emissions derive from construction, with building materials accounting for a significant portion of this challenge.  
ECOPact enables builders, developers, architects, engineers and designers to reduce the embodied carbon of residential, office and infrastructure projects between 30% and 60% compared to the Australian National Life Cycle Inventory Database basecase concrete with no cement substitution. By combining ECOPact with accredited carbon offset programs, ECOPactZERO reduces the remaining impact of concrete carbon to zero.
Put in perspective, if we built a structure like the Sydney Harbour Bridge using ECOPact at 60% embodied carbon reduction, it would be the equivalent of removing 14,700 cars off the road for one year.
"I am proud to announce our commitment to help our customers reduce the embodied carbon of concrete construction. We pride ourselves on being a solutions provider to our customers and ECOPact is a substantial shift towards sustainable construction," George Agriogiannis, Chief Executive Officer, Holcim Australia & New Zealand.
Cairns based residential builder, MyStyle Homes, is excited to partner with Holcim to reduce their carbon footprint. "We live and work with the Great Barrier Reef at our doorstep. Climate change is the greatest threat to the Great Barrier Reef. It is critical for us as a business to lower our carbon footprint. Holcim is providing us with credible solutions to do this". Grant Hartwig, MyStyle Homes.
With ECOPact, Holcim can help customers:
Meet the need for climate action based on science

Reduce embodied carbon by 30-60% compared to standard general mix concrete

Combine ECOPact with third-party verified offsets to build with carbon neutral concrete - ECOPactZERO

Use ECOPact in most applications with equivalent strength to conventional concrete 

Gain competitive advantage and meet evolving tender requirements that stipulate embodied carbon reduction targets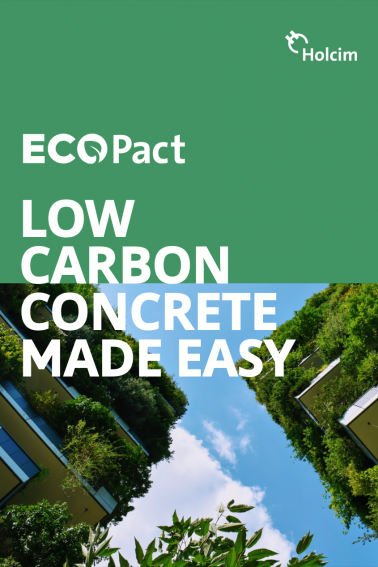 Sustainable Concrete Solutions
With ECOPact, the carbon intensity can be reduced by 30-60% by replacing the standard cement with alternative materials.
Download brochure (PDF) - ECOPact: Low Carbon Concrete Made Easy