Humes provide carbon neutral culverts in first for Inland Rail
Humes, in partnership with Inland Rail, has achieved an industry leading sustainability milestone by providing 22,625 tonnes of carbon neutral precast concrete culverts.
The carbon emissions of the products were reduced using supplementary cementitious material, with the remaining emissions neutralised via certified carbon offsets.
The 22,625 tonnes of carbon neutral culverts will save over 7,250 tonnes of carbon emissions; this is the same as:
removing about 1,350 vehicles off the road for a year1 or

the total energy usage of 1,028 Australian homes for a year for all heating, cooling, cooking, hot water, appliances and lighting2
Inland Rail is a once-in-a-generation project that will enhance supply chains and complete the backbone of the national freight network between Melbourne and Brisbane via regional Victoria, New South Wales and Queensland.
Comprising 13 individual projects and spanning more than 1,700 km, Inland Rail is the largest freight rail infrastructure project in Australia and one of the most significant infrastructure projects in the world.
The culverts, which were manufactured at Humes' Tamworth-based facility, were installed on new rail track and road connections as part of the 103 kilometre Parkes to Narromine section of the Inland Rail project.
Humes, a division of Holcim Australia, registered an Environmental Product Declaration (EPD) for precast concrete products manufactured at Humes Tamworth in early 2020. This followed the world-first EPD for precast concrete pipes by Humes in 2017.
These EPDs quantify the greenhouse gas emissions involved in the creation of Humes precast concrete products through the entire supply chain, otherwise known as 'embodied carbon'.
Humes then purchased and surrendered a corresponding quantity of carbon offsets to achieve carbon neutrality. 
Inland Rail's Parkes to Narromine project is the first Infrastructure Sustainability Council of Australia (ISCA) project that has achieved a rating for the use of carbon neutral precast concrete.
Inland Rail registered for an ISCA program rating under the voluntary scheme, which evaluates the sustainability of design, construction and operation of all infrastructure asset classes in all sectors.
The 13 projects of Inland Rail's program are being assessed against the ISCA framework, providing consistency and challenging the projects to deliver best practice outcomes.
"Inland Rail is committed to embracing sustainability innovation, providing lasting benefit to communities along the alignment, and creating positive improvements across the entire rail supply chain," said Inland Rail Delivery Manager, Brad Jackson.
"What Humes achieved shows that the supply chain wants to do better and they see the value in pursuing the reach for sustainability and carbon reductions. At Inland Rail we encourage, support and applaud the supply chain setting a new industry benchmark and this achievement is a real step-change," said Mr Jackson.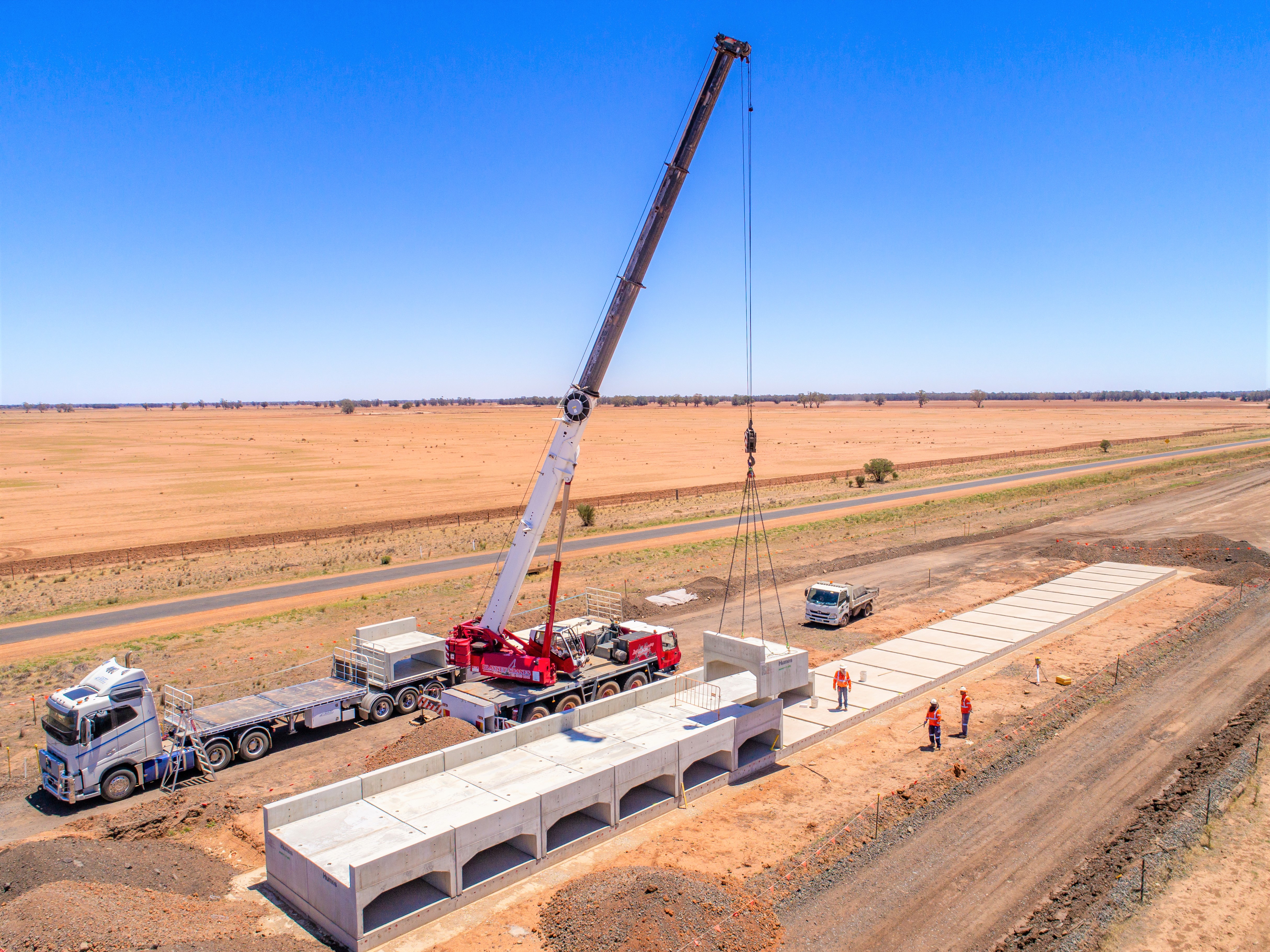 Carbon neutral precast concrete culverts from Humes being installed on the Inland Rail Parkes to Narromine section.
---