L and T walls

Humes offer modular cantilever storage wall units for internal or external retainment, separation, or confinement of bulk materials of all kinds. Walls can be temporary or permanent, and can be used for internal or external storage areas.
Storage wall units provide a simple, safe reinforced concrete storage system with long service life and minimal maintenance. Humes manufacture two systems; the L wall and theT wall. Standard L units are normally used for single loading applications where materials are stored on the heel side of the wall only. Standard T units are normally used for double loading where materials are stored on both sides of the wall.Special purpose wall units can also be manufactured to meet client requirements, including a special shape, or a modification of the standard unit height.
---
Grain bunker modules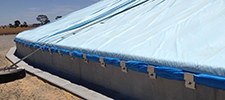 Precast concrete grain bunker modules have been specifically designed for the retention of grain in stockpile situations.

The use of precast walling provides a number of benefits:
Horizontal grooves allow clamping of tarpaulins to provide better protection from vermin and the weather.
The versatile design provides a suitable indoor or outdoor solution.
The simple design provides for fast and easy assembly and dismantling.
One unit can be used to prevent mixing or sprawling of multiple stored materials.
There are no limitations in the length or shape of a storage area.
It increases the capacity of a storage area for identical ground area of open stacks.
Lifting lugs enable easy handling.
Uniformity of structure enhances the general appearances of storage areas.
Standard modules are 3,500mm long and 900mm high.