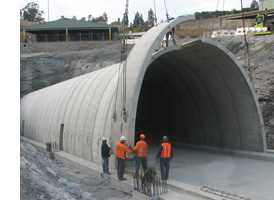 The precast arch system is unparalleled in its ability to deliver a high performance and cost effective tunnel solution. Humes has developed a large range of custom designed arches that are ideal for a variety of complex heavy loading criteria and internal envelops.

The 3-Pin arch range has been widely used for reclaim tunnels in mining applications to cater for coal and other mineral stockpiles up to 25 metres.
Arch accessories
The arch system typically includes an arch unit, a spandrel wall, and a wing wall.

The spandrel walls run parallel to the arch, retaining the backfill at each end of the structure, and enhancing its appearance. Units range from 6m to 21m span.
The wing walls are placed at each end of the spandrel wall to retain the backfill, support the spandrel walls, and to provide training walls for waterways. Each wing wall unit is approximately 2.5m wide.
All of these elements may be finished in either conventional concrete or a variety of applied finishes to suit the design requirements.