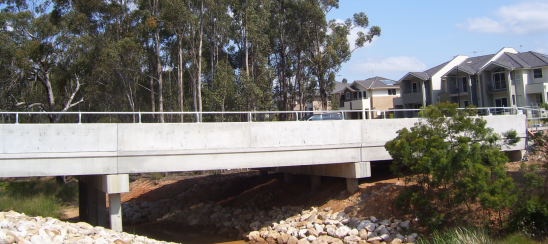 The HumeDeck® modular bridge system is the perfect solution for small to medium size bridges; commonly used in regional areas where council timber bridge renewal programmes are undertaken. Whether the unit is installed onto an existing substructure, or combined with precast concrete piles, abutments and headstocks for a total precast solution, this reinforced concrete modular bridge system is a cost effective decking system with minimal design costs, quick installation and minimal maintenance. This low cost precast bridge solution is ideal for the upgrade of many of Australia's older small span timber bridges.
The HumeDeck® modular bridge system delivers significant benefits:
The deck and girder are combined into one unit, enabling an efficient design with fast and simple installation. The combined deck and girder unit provides a span of 6m to 12m.
Headstock and abutments are either joined to piles or bolted to existing piers to allow faster installation.
There are minimal longitudinal joints which reduces installation time and maintenance requirements.
It is cheaper to transport and handle because the units are wide but they are lighter in mass than other solutions.
There is less site work as post tensioning of units is not necessary.
The top surface of the HumeDeck® units have a coarse broom finish which can be used as the road surface without the need for additional concrete topping or asphalt surfacing.
Humes provide a complete precast bridge solution including substructure components like abutments, headstocks, and prestressed piles.
Designed in accordance with the Australian Standard - Bridge Design (AS5100 - 2004) the HumeDeck® bridge system is manufactured to a 100 year life. Bridge units can be designed to meet site specific parameters and tolerances. HumeDeck® units can also incorporate cast-in fittings for the connection of different types and class of barriers. Kerbs can be precast integrally with the HumeDeck® units or manufactured as separate precast units and bolted to the deck units on site.