Built Smarter: Upgrading Sewage Infrastructure in Yass, NSW
Custom ReserVault® system provides emergency sewage storage in tight footprint.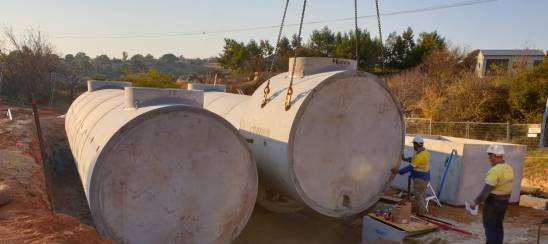 Yass is a historically significant town in the Southern Tablelands region of New South Wales. Yass Valley Council has embarked on sewerage service upgrades under its current Development Servicing Plan due to aging infrastructure approaching the 100-year mark and increased development in subdivisions.
As part of the upgrades, the Council's Wellington Road catchment required a sewage pump station and emergency storage tank to service up to 400 new residential lots. Humes was engaged to supply a custom ReserVault® system to provide approximately 50kL of emergency storage capacity along with the DN3600 sewage pump station in an area with a constrained footprint.
Using "come-along" hand-operated winches, highly experienced contractors from TWS Evolution were able to install the ReserVault® system in a single day. Technical expertise from Humes also played a role by offering specific advice on using rigid rubber rings in the cold weather conditions experienced on the date of installation.
Humes is a division of Holcim Australia, and is the leading provider of engineered concrete solutions for the civil construction industry.
Case study – Yass Sewerage Scheme, NSW (pdf, 1.19 MB)