Explore the Creative Control of Concrete
Concrete offers a unique combination of versatility, flexibility and creative control that makes it a highly sought-after construction material.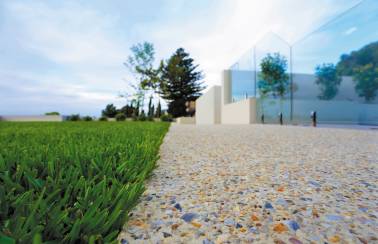 Favoured for its strength and durability, concrete has long been used for landscaping and functional outdoor features like driveways, pathways and retaining walls. Concrete is now enjoying a resurgence in popularity for its aesthetic appeal too, embraced by architects and builders for everything from polished concrete floors to entire homes. But it isn't reserved for only the rich and famous.
Decorative concrete options like Exposed Aggregate, Coloured Concrete and Polished and Honed Concrete are popular choices for residential properties, with potential applications both inside and out. How much concrete you use, and where you use it, is entirely up to you as a homeowner. And most renovators will soon find more than a few uses for concrete.
Shape and Form
Concrete is the most widely used material in the world, second only to water, owing to its flexibility and versatility. Poured as a fluid liquid, and setting as hard as rock, concrete is capable of taking on almost any form.
Depending on its preparation, pouring, and finishing, concrete can be used in major constructions like bridges, skyscrapers and residential architecture, through to artistic sculptures, pots and vases, or the finest of trinkets. Evolution of technology such as 3D concrete printing is transforming the construction industry, opening up even more opportunities.
This new age of concrete may seem like a long way from the heyday of brutalist architecture. Big, bold and brash, brutalism dominated civil architecture for several decades, but it remains just as evident, and relevant, today in cities all over the world.
While in the humble Australian home, concrete is making a comeback both inside and out, just with a gentler approach. Exposed aggregate lends itself to neutral applications, mixed with natural stone for a textured, organic finish perfect for driveways, paths, and patios.
While polished and honed concrete creates a sleek and smooth surface for indoor flooring, as well as benchtops, dining tables and even pool surrounds. True to its nature, concrete continues to offer endless possibilities for creative control of shape and form, evident in the built form of the world's largest cities, to your very own backyard, or living room.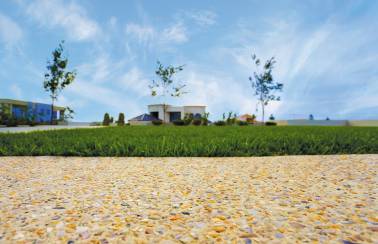 Creative with Colour
The range of colours and natural stone selections available in the Geostone product range makes decorative concrete an even more versatile building material. From earthy and neutral tones to deep greens, and pure white stone to charcoal, the varied colour palettes foster freedom of creative expression. But its benefits don't stop at colour.
Coloured concrete provides industrial strength and durability, without the limitations of an industrial palette, or '50 shades of grey'. This provides homeowners with both creative control and freedom to customise their interior and exterior uses of concrete, to complement, or contrast, the colour scheme of their home and local surrounds.
It also works in greater harmony with furniture, decor and other additions to the property, pairing perfectly with natural materials like timber, stone, and greenery. While inside, concrete floors create a spectacular foundation for open plan living. Ideal for modern, contemporary, classic or minimalist styling, polished concrete can also be softened with furnishings like rugs, cushions and mood lighting.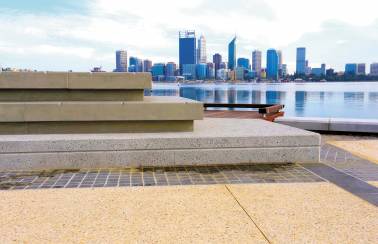 Creating a Space
Rather than merely filling a space, concrete has the power to define it.
Whether it's carving out pathways, building a retaining wall, or pouring a polished concrete floor, decorative concrete makes a statement powerful enough to stand alone. Maybe it's the natural stone aggregate detail, the unique colours, the high-sheen finish, or the way light projects and dances off it, but polished concrete floors make a bold statement.
While outside, concrete can be used to bring definition to backyards, landscaping and public spaces. Geostone has been used in civil projects throughout Australia, from beach forefronts and public park footpaths to city centre walkways. The colours and aggregates were chosen to carefully reflect the natural beauty of each area, while serving as a functional, and durable, construction material.
Geostone offers these same benefits in any application, indoors or out, including the humble family home. Concrete continues to provide exciting opportunities for both creative control and expression, accessible to architects, builders and homeowners.
Although it has been used since ancient times, concrete is now enjoying modern breakthroughs in innovation and technology, supporting new possibilities for concrete in construction.
So only one question remains. And that is, what are you going to build with Geostone?
Contact us today to discuss your project vision.