Celebrating operations excellence
At Holcim we are always looking for new ways to operate as efficiently and effectively as possible. We focus on raising the bar in terms of safety, sustainability, and productivity to create business operations that truly excel.
This year, we celebrated the team whose outstanding work in Holcim's Model Plant Program significantly contributed to us achieving our goal of operations excellence.
Meet our 2018 Operations Excellence Award winner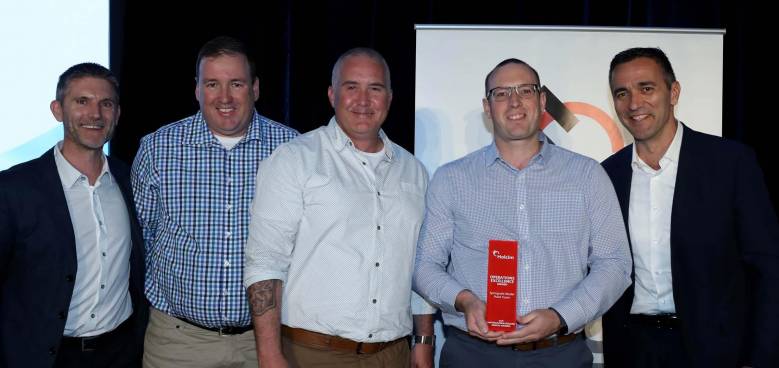 Operations Excellence Award (l-r): Duncan Harris, EGM Aggregates; Matthew Sturrock, Area Operations Manager; Ryan Thomas, Production Supervisor; Daren Haber, Model Plant Coach and George Agriogiannis, CEO Holcim Australia and New Zealand.
Congratulations to the Springvale Model Plant team who over the last 12 months has embraced the program and in doing so has seen their concrete plant improve their safety and productivity performance. Through the dedication of the team, which included Ryan Thomson, Production Supervisor, Matthew Sturrock, Area Operations Manager and Darren Haber, Model Plant Coach (pictured) the plant achieved impressive program outcomes leading the way for all of our concrete operations.
From a safety perspective, the plant gave considerable focus to site improvements, resulting in a reduction of cement slurry around the load bay and drivers no longer needing to leave the cab to confirm the correct position of their truck. In addition, a new vehicle and pedestrian plan was implemented to remove the contra flow of vehicles around the site as well as forklifts from pedestrian traffic.
It is seeing results like Springvale which highlights the importance of the Model Plant program to Holcim and exemplifies what can be achieved through collaboration and teamwork.