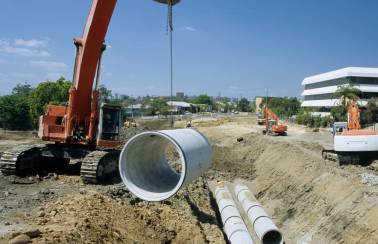 Stormwater pipes – standard
Humes offer a wide range of diameters, lengths, classes, mix variants and linings to meet our customers' project needs.
Humes' standard concrete pipes are available in 300mm to 3,600mm diameters.
Pipes are available in standard strength (class 2-4) and super strength (class 6-10) load classes.
Concrete pipes are typically manufactured in 2.44m lengths, although other lengths can also be manufactured on request.
Pipes are available with either a flush joint or rubber ring joint.
Humes' steel reinforced concrete pipes are manufactured and factory tested for quality to AS/NZS 4058:2007 Precast Concrete Pipes (pressure and non-pressure). Pipes can also be custom made and tested to meet specific customer requirements.
Humes offer a wide range of job specific pipe fittings, ranging from bends and junctions to reducers and steel adaptors. All Humes' pipe fittings are manufactured from standard steel reinforced concrete pipe and therefore share the same properties as the pipeline.
Stormwater pipes – salt water cover
Humes can provide an internal surface layer of concrete in addition to the nominal 10mm cover to reinforcement in spun concrete pipe. This sacrificial layer is designed to ensure the pipe is structurally sound at the end of its design life.
Splay pipes
Splay pipes permit curves in pipeline alignment without hydraulic head loss that can result from a rapid change in the direction of the flow at a sharp bend. Splay pipes are available from 600mm to 2,100mm diameters.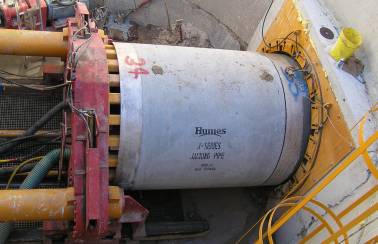 Stormwater pipes – jacking
Humes provide a comprehensive range of steel reinforced jacking pipes from 300mm to 3,600mm diameters to suit a wide range of applications and installation methods. All standard Humes' jacking pipes are provided in Class 4.
Butt joint jacking pipes - a cost effective solution for typical short length applications where only limited flexibility is required and a soil or watertight joint is not necessary.
S series jacking pipes - a custom designed jacking pipe with high axial load transfer capacity and a flexible joint watertight joint. The S series is an ideal jacking pipe for stormwater, culverts and sleeve pipe applications.
J series jacking pipes - this range of pipes provide high axial load transfer capacity and a flexible water tight joint (including the interjack pipes). This is an ideal jacking pipe for all stormwater, sewerage, culvert, sleeve pipe and jacked low pressure pipeline applications.