A continuous flow – ReadyMixer™ is an alternative way to get access to concrete for various types of applications. ReadyMixer employs Volumetric technology and as such, materials are stored separately and mixed onsite as required – meaning you can complete jobs with varying concrete properties and strengths in one run!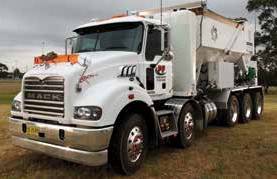 Concrete on demand
What is ReadyMixer™?
Holcim's new ReadyMixer™ uses volumetric technology to provide a flexible solution for all your concrete needs. Have a fresh batch of concrete for any job, on site and ready to use anytime and anywhere with ReadyMixer™.
ReadyMixer™ a continuous flow – How it works
Your materials are loaded into separate compartments, mixed onsite and ready to use in seconds. Materials are dispensed in a continuous flow process through a lined auger system and conveyer belt into the mixing auger. The volumetric technology is calibrated by weight, so you can be sure to get a precise pour every time. With quick and easy clean up, you can be mixed and ready to pour at your next job in an instant.
Why ReadyMixer™?
| | |
| --- | --- |
| Accuracy & control | Select from a range of mix designs for a precise pour |
| Quality | Access to fresh concrete for the best results possible |
| Speed & adaptability | Complete multiple jobs in one run |
| Reliability | With zero risk of concrete setting, a backup supply is never far off |
| Flexibility | Suitable for a wide range of projects including; short pours, specialty and decorative concrete, remote work and after hours pours |
| Environment | Uses 40-50% less water with zero waste |
Holcim ReadyMixer™ Flyer (pdf, 168.88 KB)