Productivity and Emergency Apps for the Concrete and Construction Industry
Concrete may have been around for centuries, but modern technology has changed the face of the industry in just the past few years. One of those changes is the arrival of mobile applications - apps - that have allowed for faster and more efficient ordering, planning, delivery and design for concrete and construction projects.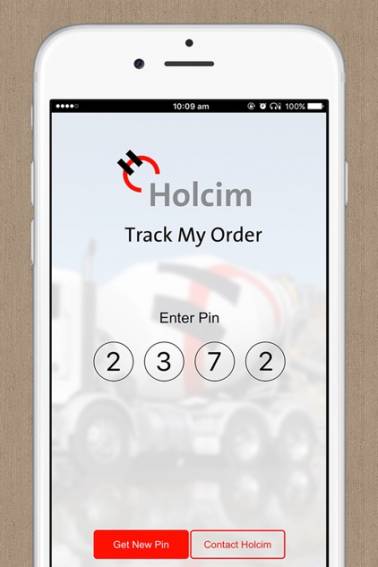 The availability of this new and innovative digital technology is saving time and money for concrete installers, finishers, trades and construction companies. We've compiled some of the apps currently available to help the concrete and construction industry work smarter, not harder.
Track My Order
Holcim's Track My Order app allows concreters, builders and construction crews to track the status of their concrete and aggregate orders, including following deliveries on a live tracking map. The app also provides notifications, alerting customers to changing order status and delivery updates. Users can customise settings to receive notifications when a delivery is anywhere from two hours to five minutes away, and when the delivery has been completed.
Track My Order can be accessed by multiple users, allowing teams to work together effectively to coordinate concrete pours. The live tracking map also pinpoints the delivery point, which is particularly useful for projects requiring multiple deliveries and pour points. Customers can view the status of all pending and confirmed orders due for delivery in the next 14 days, reducing the need for calls to the Holcim Contact Centre or local plant.
Track My Order is available to download free from the App Store for iOS and Google Play for Android devices at https://trackmyorder.info.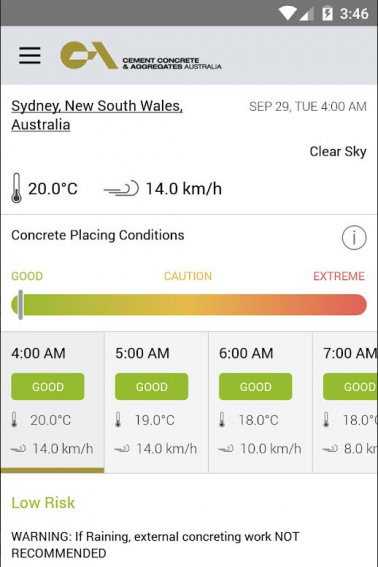 Smart Concreting App
The Smart Concreting App by Cement Concrete & Aggregates Association (CCAA) provides real-time weather and atmospheric data to calculate concrete evaporation rates. This information includes temperature, wind speed and relative humidity, which can be used by concrete contractors and construction teams to determine the best day to pour, up to a week in advance, as well as the best methods to use to prevent cracking.
The app has been created by industry professionals with knowledge about concrete, how the material behaves and industry best practice guidelines. The result is an app that can help construction crews and contractors prevent costly mistakes and avoid tedious remedial work. The app also provides easy access to other CCAA resources relevant to concrete placement.
Smart Concreting App can be downloaded free from the App Store and Google Play Store. 
Emergency +
Workplace safety is a priority for all concrete and construction crews and contractors. Developed by Australian emergency services and Government partners, the Emergency+ app uses GPS functionality in smart phones to help users relay critical location details during a Triple Zero (000) emergency call.
The app also gives users the option to call 000 for emergencies, or the police, ambulance or SES for non-emergencies.
The Emergency+ app is available to download free from the App Store, Google Play and Windows Phone Store at http://emergencyapp.triplezero.gov.au.