At Holcim, we value and promote a workplace that is safe, diverse, inclusive and fair, and which supports all of our people to thrive and realise their potential. To achieve this, we depend on leaders to champion this value and live it each and every day. Our People Excellence Award recognises leaders in this area and celebrates great teams.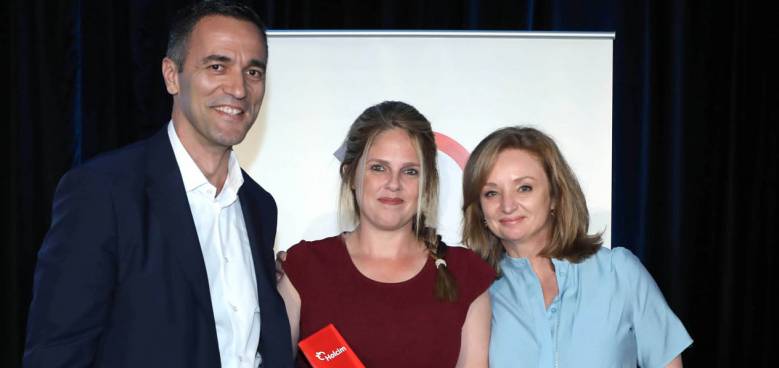 L-R: George Agriogiannis - Chief Executive Officer, Rochelle Flack - Rooty Hill Distribution Centre Site Manager, Sam Toppenberg - Executive General Manager Health & Safety, HR and Communications.
Congratulations to our hardworking Rooty Hill Distribution Centre Site Manager, Rochelle Flack, who last month was named our People Excellence Award winner for 2018.
A humble leader who genuinely cares about the safety, wellbeing and development of her team, Rochelle has taken the Centre from strength to strength.
Over the past 18 months, Rochelle has led a key engagement and productivity program for the centre, as well as a number of collaborative, cross-business activities - all designed to improve the workplace culture and site environment. 
Her focus on building a high performing team guides how she recruits talent and develops internally. Rochelle has been relentless in her search for quality people; she hires for attitude and trains for capability. And despite a challenging labour market, Rochelle now boasts a full team of diverse, highly engaged and capable people.
Rochelle embodies what it means to be a valued and respected leader within Holcim - someone who genuinely cares for our people.